Boats & Captains
View All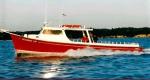 Location: Happy Harbor, Deale, MD
Captained By: Frank Carver
Bryan Schmitt
Length: 46'
Capacity: 44
Phone: 301-261-5869
Mobile: 202-369-8203
The "Loosenup" is a 48' Carman built in 1998 and is equipped with all the latest and best in fishing tackle.

Enjoy Chesapeake Bay Fishing Aboard the LoosenUp:

Whale Watching in Virginia Beach
Over 30 years of Experience, 800 HP Engine and 96 Mile Radar
Licensed for up to 44 passengers
Fully equipped with all Coast Guard life saving equipment and more.
2 ship to shore radios, telephone, loran, color video fish finder, EPIRB

Captain Frank Carver has been fishing the Bay for over 20 years and is fully Coast Guard Licensed.